Aloha Dai-Shihan Joe Holck, Sensei and Friend
By Professor Glenn Medici
Joseph Holck, Colonel United States Army, Chairman Emeritus and Dai-Shihan of the Kodenkan Yudanshakai passed away peacefully at 0745, November 6, 2011, surrounded by his family in Tucson, Arizona.  The world has lost a truly great martial artist, teacher, and human being.
How does one ever fully thank his Sensei?  Not sure it's even possible.  I do know that I am eternally grateful for all the many things Dai-Shihan Holck taught me, both on and off the mat. It is an extreme honor to be the "deshi" of such a great martial artist and human being. The Holck Ohana is very private, so you would probably never hear any of this from that source.  I would like to share with you what a great man he was.  In addition, I will also include some lesser-known facts.
Aloha Spirit always flowed out of Dai-Shihan Joe and Shihan Amy Holck whenever they greeted you. They both taught me what "aloha" truly is. I was just an Arizona lad.  I knew of deserts, mountains, and Arizona traditions, mostly cowboy. I knew nothing of what the Aloha Spirit was all about until I saw it demonstrated – over and over again – by Dai-Shihan Joe and Shihan Amy in Tucson, Arizona. WOW! You knew you were family.
I was both privileged and honored to formally receive my first black belt and credentials in Dai-Shihan's living room in Tucson, Arizona.  Many years ago, when the Kodenkan Yudanshakai was a lot smaller, important formal events occurred in the private setting of Dai-Shihan and Shihan Amy's living room.  The Kodenkan Yudanshakai has grown substantially over the years.  Nowadays, it requires a much-larger, less-intimate facility. 
The annual Memorial Day Weekend Martial Arts Camp is a long-standing tradition in the Holck Ohana and the Kodenkan Yudanshakai. Many a time, we did a thousand kicks per leg as the sun came up over the southwestern sky.  This was followed by breakfast and all-day-long grueling workouts.  There were many times I had to use concerted effort just to extricate my totally exhausted body from my vehicle upon the return to Phoenix from Tucson.
In Dai-Shihan Holck's many teachings, he always stressed the "Esoteric Principles of Professor Okazaki", especially the perfection of one's own character.  This was dear to his heart, as was pure Danzan Ryu technique.
It is important to know that Dai-Shihan Joe Holck was instrumental in helping unite the effort to have the very first Ohana gathering in 1990.  He preferred to be in the background, as he was a very humble man.  One weekend in the mid-1980's, we drove him to Laughlin, Nevada, for a Pre-Ohana "hotel-room" meeting.  In attendance were Dai-Shihan Holck, Professor Carl Beaver, Professor Norm Nelson, Professor Mike Chubb, Professor Bill Fischer, Professor Steve McMillan, Sensei Kirk Jaeger and myself. 
From that meeting, the dialogue was initiated to bring all the families back together again in one venue for the first time in many years.  This dialogue resulted in the creation of the first Ohana gathering in Irvine, California, in 1990. Both in his service to this country as a Colonel in the United States Army and in his efforts to advance the Spirit of Ohana, Dai-Shihan Holck led by example, both on and off the mat. 
At that 1990 Ohana, Dai-Shihan assigned me to be "glued to his hip" in the hospitality room for the entire night.  I was to be a "fly on the wall", just observing, for posterity sake.  It was also my job and honor to have a bottle of sake prepared and close at hand for such proper occasions!
It was very interesting to me to listen to the many conversations from all the various Danzan Ryu families, coming together after such a long separation. The most common theme was, "Just who is doing the techniques correctly?"  This did not matter to Dai-Shihan Holck.  What mattered to Dai-Shihan was honoring the legacy and teachings of Professor Okazaki. 
I was further honored to have Dai-Shihan Holck serve as one of my best men for my wedding.  What an extreme pleasure to have shared all the many things I have with such a great martial artist and human being.  Mahalo nui loa, my friend and honored teacher. 
In tribute to the passing of such a great teacher, I have decided that the shiny new black obi that was presented to me by Dai-Shihan Holck many years ago will now be formally retired.  Of course, that once-shiny black obi is now quite weathered, having been rendered almost-completely white by the constant wear throughout these many years.
Dai-Shihan, it is now your turn to join the Danzan Ryu greats who have gone on before you – including Professor Okazaki, Professor Bill Montero. Professor Carl Beaver, Professor Francisco Limbago and Professor Sig Kufferath.  You leave an outstanding legacy for your many students.  I will always honor you as my Sensei.  I will always honor your legacy.  I will – always – deeply miss my friend.
Aloha, Sensei, my friend and mentor.  Me Kealoha Pumehana.
Your deshi, Glenn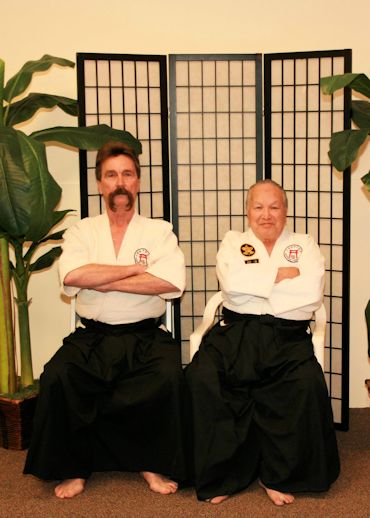 Glenn Medici with his teacher, Dai-Shihan Joe Holck