Hawaii 1997
or "What I did on my Summer Vacation"
Page 2
---
Prof. Wally Jay's 80th Birthday
People from all over the world took the time and effort to fly to Hawaii to join in the celebration of Prof.Wally Jay's 80th birthday celebration. Thanks to the herculean efforts of Ron Ogi, it was a huge success. The big party started with a registration and mixer on Friday afternoon. It was great to see old friends and meet new ones. On Saturday and Sunday, some of the world's top martial art instructors presented seminars and demonstrations. They were all wonderful. On Sunday, a professional Sports Jujitsu tournament was held between TeamUSA and TeamHawaii. That evening, the banquet was given in Prof. Jay's honor. Thanks to Ron's meticulous attention to detail, it was a first-class event.
Here are some photos from the weekend: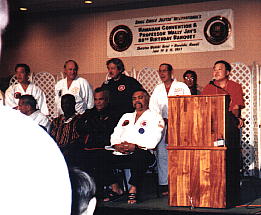 Next to Prof. Jay, the main man at the event was definitely Ron Ogi. Here's Ron at the microphone introducing the seminar instructors. Also seen in this photo are: Wally Jay, Tony Maynard, James DeMille, Don Jacob, Willy Cahill, Bob Maschmeier, Dave Fairfield and Leon Jay.
---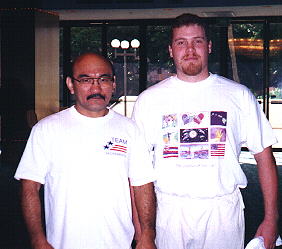 Here's Atsushi "Al" Ikemoto and Adam Snook. Al is a buddy of mine from the 1993 Okugi class. He's very unassuming, but what a Judo encyclopedia! I met Adam for the first time in Hawaii. He is a student of Professor Dave Bellman and has participated in Camp Yama Bushi. We had mutual friends in Mike Belzer, Lawrence Boydston and Mark Wald.
---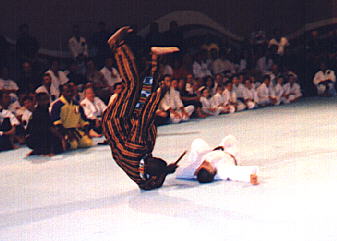 Prof. Don Jacob was a real crowd pleaser. In addition to being warm and friendly, he is an excellent technician on the mat. He had ukes flying all over the place. Showing the influence of his teacher Prof. Moses Powell, Prof. Jacob did a perfect one-finger roll. In this photograph, he takes it one step further and does the roll with a knife on uke's throat. Fortunately, uke walked away from this one.
---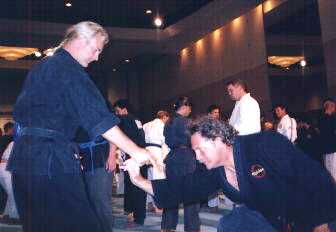 Senseis Hans Ingebretsen and Dale Kahoun practice a finger lock during Prof. Wally Jay's class. They are both instructors at the Pacific Coast Academy of Martial Arts - Kilohana in Campbell, CA.
---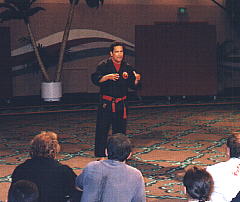 Prof. James Muro is one of the finest martial artists I have ever met. Having studied with the late Prof. John Chow-Hoon, he combines Danzan-Ryu Jujutsu and Kempo with his skills in Filipino martial arts to create an intricate and lethal mix. If you ever get a chance to attend one of his seminars, you will come away awed and amazed!
---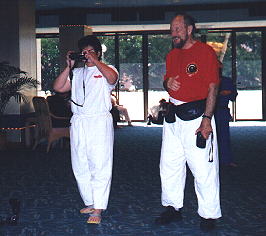 Sensei Janice Okamoto (seen here with Prof. Lee Eichelberger) is well known for her many fine photographs at conventions and tournaments. In her own right, she is an excellent Judo and Jujutsu teacher, having studied with Profs. Jay, Kufferath and Fukuda Sensei of the Kodokan.
---
---
This page maintained by George Arrington.
Back to Home Page.