Hawaii 1997
or "What I did on my Summer Vacation"
Page 5
---
An Important Promotion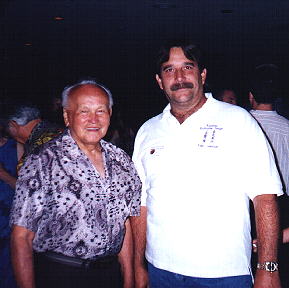 During the convention I learned that Prof. Sig Kufferath had promoted his senior student, Professor Tony Janovich to Hachidan (8th Dan). I learned from Prof. Kufferath that this is the highest rank currently possible to receive from him.
Tony began his studies with Prof. Kufferath on his 12th birthday over 30 years ago. In the summer of 1993, Tony and Prof. Kufferath repeated Okazaki's 1948 Okugi class for a group of current Danzan-Ryu instructors. Today, he is Chief Instructor at the Kodenkan Jujitsu School in Santa Clara, CA. Congratulations, Tony.
---
The Alawai Canal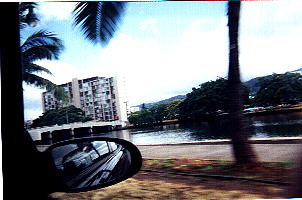 The Alawai canal was built to create the Waikiki area. This area used to be rice paddies and swamp, but thanks to the canal, it is now the current resort area.
In the June 1997 Letter from the Editor, I highlighted the life of John Cahill. In my interview with his son, Willy Cahill told me that his father's rowing crew used to go up and down the canal for practice. While I was having breakfast in Hawaii with Willy one morning, he also told me that his father could swim from the McCulley St. bridge to the Kalakaua Ave. bridge, UNDERWATER! (That's about the length of two football fields!)
---
Hanama Bay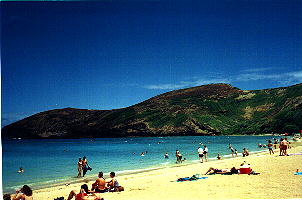 When we got to Hawaii, everyone told us, "You've got to go snorkeling at Hanama Bay!" On Monday, (after my second treatment with Hachiro) my daughter and I took a trip to Hanama Bay. Hey, you've got to go snorkeling at Hanama Bay!
It was absolutely wonderful! The water was warm and extremely clear. Some of the fish were 18 inches long. We even got to see humuhumunukunukuapuaa! We took some food pellets into the water and caused several feeding frenzies. We even helped a Japanese woman who was a poor swimmer out of the deep part of the bay. I tried to use my rudimentary Japanese, but in her panic, she was more interested in using proper English: "Yes, could you please help me to the shallow part." We complied and helped her back near the shore.
---
Makiki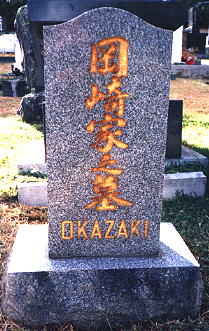 Just east of the Punchbowl National Cemetary is a much smaller cemetary in an area known as Makiki. Here, we found the final resting place of Henry Seishiro Okazaki, his wife Waka, their infant sons and their daughter. It was quite moving to visit this spot and pay our respects to the Danzan-Ryu Soritsusha. My daughter laid Hawaiian flowers on the base of this monument.
The inscription reads, "Okazaki Ya No Haka", or "Okazaki Family Grave".
---
Steve McLaughlin
On Tuesday evening, I had the chance to visit the home of Steve McLaughlin. He and his wife Linda live in a lovely area the eastern part of Oahu.We spent several hours sitting around his living room drinking POG and doing talk story. Later we visited Buzz's Restaurant for some oishii seafood!
I really appreciate Steve's work on the Hawaii KoDenKai web page. His page was truly an inspiriation for my web page. Thanks, Steve!
(Boy was I dumb! I had the stupid camera in the car, but I forgot to take any pictures. This gives me a good excuse to go back.)
---
Bali Hai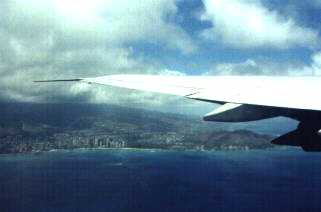 On Wednesday, June 18, 1997, my daughter and I boarded a 747 and left our island paradise. The weather was slightly overcast with a light rain. We climbed out over Pearl Harbor, Waikiki, Diamond Head and gently banked left past Hanama Bay. We watched our home for the past week slip past us in cloud-laden obscurity.
Several hours later we watched a Pacific sunset. I was hoping to catch an elusive "green-flash", but did not. We changed planes that evening in a Los Angeles covered in a low, thick overcast. Trying to get some sleep on the second leg of the flight, we were greeted by an early morning eastern sunrise. We touched down at Dulles at 6:00 AM on Thursday.
Hawaii beckons for me to return. I think I will.
---
---
This page maintained by George Arrington.
Back to Home Page.